Gov. Nasiru el-Rufa'i, says "unqualified teachers" are using pupils for "illegal protests." He was reacting to some pupils who took to the streets to protest the state executive council's approval to sack  primary  school teachers who failed competency test. A total of 21,780 primary school teachers in the state had reportedly failed the examination administered to test their competency.
In a statement, Samuel Aruwan, Spokesman of el-Rufa'i, described the protest as "politically-inspired demonstration." The statement said exposing minors to hazards showed that some teachers want to "jeopardise the present and future of these children."
"The Kaduna State Government has received reports of primary school pupils being pushed to the streets by their unqualified teachers for illegal protests. These unlawful acts have included getting young children to block highways.
"Government condemns this wanton disregard for the lives and safety of primary school pupils placed in the care of these unqualified teachers. It is grievous enough that bad teachers have been allowed to imperil the educational future of these children. But for these same teachers to endanger the children by asking them to block and lie on highways illustrates a chilling level of irresponsibility that no law-governed society can accept.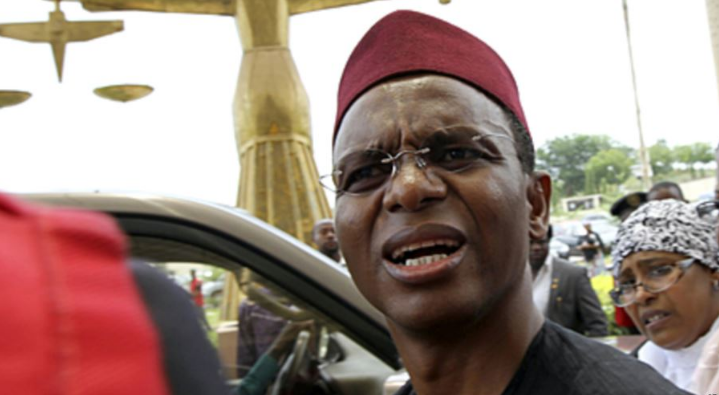 "When parents send their children to school, they place pupils in the care of their teachers during school hours. Parents rightly do not expect teachers to teach their children hooliganism or endanger these minors by involving them in matters they are too young to understand.
"These children are not union members. Our pupils are the victims of bad teachers who evidently do not mind making these children cannon-fodder for their desperation. These irresponsible actions by unqualified teachers at the behest of their union affront both morality and the law, including the Penal code and the Young Persons' Law. Those involved will bear the consequences.
"Government hereby warns everyone to desist from illegal and irresponsible acts. Sound education is not a matter of sentiment. Parents who send their children to public schools have a right to expect decent tuition for their wards. Being poor should not mean that the prospects of their children should also be truncated. Nobody will be allowed to play politics with the future of our children, their education and their safety.
"Government urges parents to be vigilant, report to the relevant authorities any attempt to use their children to threaten law and order," the statement read.